Description
Music and safety in one
It's great to listen to music while doing sports. But it can also be dangerous. Cycling, inline skating, running.
Soundglasses are the solution. The speakers in the glasses frame do not cover your ears. You can listen to your favourite music and still hear everything around you.
Cycling with music and navigation
Soundglasses completely change the way you listen to music when riding a bike. It offers safe music listening, voice navigation and hands-free calling while cycling. The cyclist hears the surrounding traffic and especially passing cars.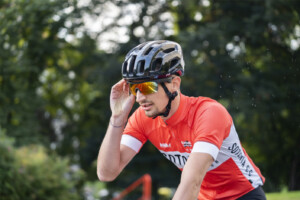 Top technologies for listening and safety
Audiorims® is a Soundeus technology for the speaker part of audio glasses frames.
Thanks to Audiorims®, the sound from the audio glasses and its volume level are balanced while enabling to hear all ambient sounds. The speakers are tuned for optimal performance with balanced power consumption. The frame is designed so as to reduce the influence of airflow (e.g. when cycling) on listening and making phone calls.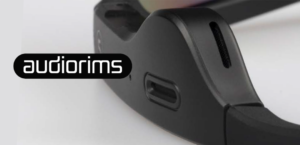 Active life in the rhythm of music
Inline skating, ski mountaineering, canoeing, gardening, running, motorbiking… You will simply appreciate Soundglasses in many situations.
Easy glass replacement
The lenses of the glasses can be easily interchanged. And you can also buy glass of a different colour. So you can choose the type that suits you best. In the event of damage, you can also only replace the lenses and continue to use the glasses.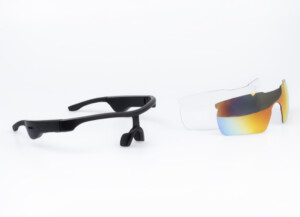 IPX5 – strong protection against water and sweat
You don't have to be afraid to get wet or sweaty with your glasses. Their robust body is water and sweat resistant in compliance with the IPX5 standard.